Txirimiri, Calle de General Diaz Portier 91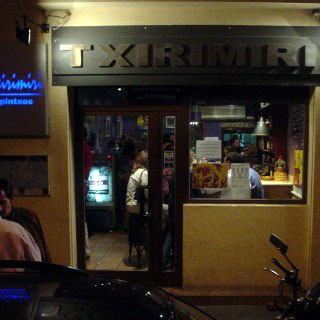 This is an odd find that you need to be shown - a cool bar with stylish decor, interesting art and tasty tapas in a very quiet part of town. This is Ricardo's local, and we just popped in for a drink before heading home. It is a shame that we had already eaten too much earlier on, because a quarter of an hour before closing, they wanted to give away the tapas, which were only left over because it was such a quiet night.
On our next visit, we were here early and in greater numbers. Luckily, early enough to get the whole corner area between the bar and the front window, where we had lots of space; later on, people just keep on coming in until there is barely room to hold your glass in front of you, let alone handle a plate of tapas. This was clearly the designer crowd, to match the fairly chic area and the relatively high prices on the menu.
The food is excellent - outrageously fancy tapas, delicious tortilla (but not enough salt), fried duck liver pate on toast, grilled pork chops, smoked salmon with avocado and more. Still, after lots of beers and as much of the food as we could eat, we had not spent all that much money - fine by our standards, but out of the price range of most students, say.
See also