Casa Paco, Calle de Segovia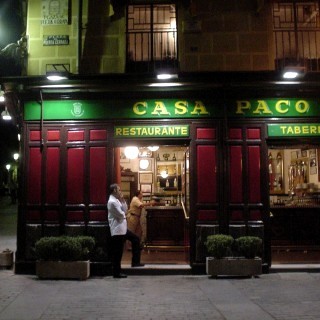 Having failed to find Taberna de los 100 Vinos on Calle del Nuncio, we ended in here for a glass of wine or two, despite it being just inside the tourist zone. The bar is attractively tiled and decorated with bullfighting memorabilia, but is more spartan than cosy.
We drank the smallest glasses of wine I have ever seen - narrow beakers that held about 5 cl, but these were refilled in a flash following a mere nod to the barman. We also ordered cheese and 'some ham', which turned out to be a plate of expensive jamón iberico that was a bit over the top - that will teach me to be a stupid tourist.
See also