El Penedillo, Avenida del Monte Igueldo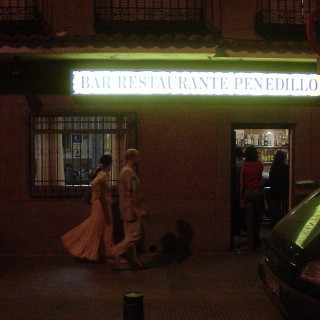 After the tourist infestation of Sol, the trendiness of La Latina and the stylishness of Chueca, the much poorer Vallecas district is a bit of a shock to the system. This large bar and restaurant, known as El Guarro, even more so, where whole families of seven or eight crowd the bar area by the door, queueing for one of the big tables, and more line the bar.
I got my first hint of how cheap the place is when I only paid €1 for my beer at the bar, with plenty of nice semi-cured ham as a tapa. Later, four of us gamely ordered two litres of beer, and huge quantities of gambas, fried squid and chistorra (sausages) with chips; we only finished the gambas, and even left some beer. Nethertheless, this feast only cost €24 between us.
There is no decoration here, just the accumulation of many decades of age, which is probably the only change during that time. This, and the huge canteen noise, make the atmosphere relentlessly alive and engaging. However, despite the good cheap food, the obscure location mean that this is really almost exclusively a place for the locals.
See also