Colby, Calle de Barquillo 26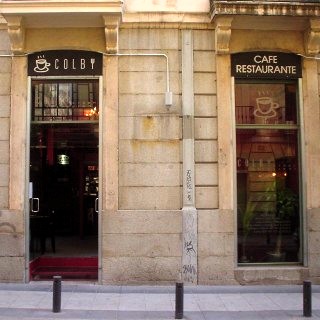 This Colby outpost is a much smaller and more interesting cafe than the other one, down the road on Calle de Fuencarral. This one is split-level; the upstairs gallery looks down on the entrance and the space in front of the bar. The red and black decor is less aggressive here, because it is softened by the bare-brick wall and the big chandelier. Also, the entrance has a good gimmick - the front step is just glass, so you can seen down into the basement: rather disconcerting if you are looking where you are walking.
Since I did not like my lemon drink at the other Colby I just had a coffee here, which was fine.
See also