Taberna Matritum,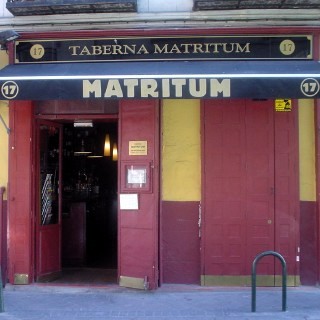 I popped into this proper restaurant to treat myself to a pricey lunch, and had a delicious revuelto de montaña (posh scrambled eggs with black pudding, mushrooms, pine seeds and various other delicacies). This is a very nice place, and definitely somewhere to come back to for a proper meal and to sample the extensive wine list.
Indeed, I came back here for a pleasant evening meal for two. I was not disappointed because the food was excellent again, and the wine (by the glass - such restraint!) was gorgeous. The only problem was that the food was so filling and rich that we did not need to have had a starter at all, and could not even consider ordering desert. That would make this place great for a whole-evening blow-out, with a couple of bottles of good wine, but not good for watching your weight.
The service was good, but extremely fast; I would not be surprised if this place successfully clears out the tourist 'first sitting' before most of the Spanish customers want dinner; at least, that is what I thought our waiter was up to. Still, we did not mind that nearly as much as the coffee machine being broken. Fortunately, it is only a short walk around the to Delic.
See also