Casa Parrondo, Calle de Trujillos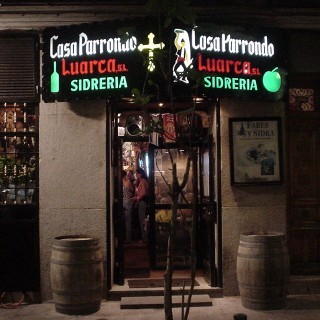 This bar and restaurant, opposite its bigger dearer sister establishment, is one of the best few places we went for lunch. The faded paintings and posters of the gorgeous Asturian landscape are verging on the tacky, but neither they nor the cheesy blue-check table clothes matter once you start to eat.
The menu del día started with a very tasty and filling lentil stew, with various bits of meat in it, and followed by such a large lump of tender pork on the bone that there was no way that any of us were going to be able to manage the desert that was also included. The quantity and quality of food, plus the coffee and drinkable wine included in the €8 fixed-price menu make this excellent value. There is really no reason to be going somewhere else unless you do not like Spanish food. Also, given that the menu included more food than we wanted and a bottle of wine that three of us did not finish, the €7.40 all-you-can-eat buffet being advertised around the corner on Calle Arenál is really bad value in comparison.
When we were leaving at lunchtime we noticed a whole load of gorgeous tapas along the bar, so we decided to come back here for beer and tapas in the evening, once we were hungry again. Lunch was huge, so this did not happen until a suitably Spanish 11 p.m. dinner time.
The tapas were a bit confusing at first because there did not seem to be a printed menu, but one soon appeared after we started asking what everything was and what it cost. We ate, and thoroughly enjoyed, seafood croquettes, cod and red pepper in batter, and Asturian tortilla. What is more, we did not spend much at all, which the poor-student types appreciated.
Going back to this favourite eatery was a different experience a few times later, perhaps because they recognised me, or perhaps because there were only two of us. We stood at the bar and ordered successive pairs of glasses of red wine, which each were accompanied by a plate of some different tapas: mushrooms in oil, chicken wings, croquettes and then patatas bravas, which actually had a spicy sauce for a change. I suspect that the wine measures were generous, although it is hard to tell with a tall wide beaker.
After plenty of food and too much wine, we paid and it only came to €2 per glass, including all the food. Better yet, after we paid, the bearded gent behind the bar refilled our glasses and gave us another tapa; good thing we were not late anywhere. Actually, we wanted to go and play pool at Templo del Gato next door, but it turned out to be closed.
The last time time, when we ordered a second pair of glasses of wine, they just gave us the bottle, which was going to be a lot less hassle. I think they were only going to charge us for what we drank, but we just finished it while we filled up on the huge supply of tapas that they gave us. The six of us actually managed to spend more than €20 on drinks this time, although the wine glasses got refilled after we had paid the bill.
See also