El Económico, Calle de Argumosa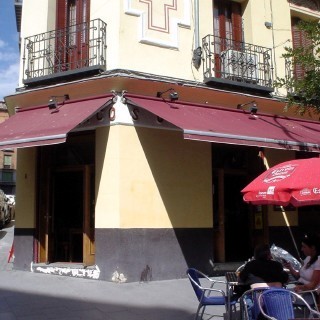 This street in Lapapiés is one long stretch of cool cafes with pavement terraces, in a relatively downtrodden part of the centre. We were only planning to sit at the bar somewhere and have some tortilla, but then we ended up sitting at a window table here ordering half of a set menu. Just as well, because we had walked around so much that I wanted an excuse to hang around over lunch for a while. Specifically, the excuse turned out to be the large carafe of refreshingly chilled red wine that came with my tasty sea bass.
We chose this place for the cool music and funky wooden and tiled interior. Best of all was a kind of bustle that made the place interesting, without being so busy that it was not relaxing any more. Also, unsurprisingly given the name, the menu was great value, although I am told that that dates back to the family who used to run the place and serve up meals for a couple of Euro.
See also