The Mader Faker, Calle de San Vicente Ferrer 17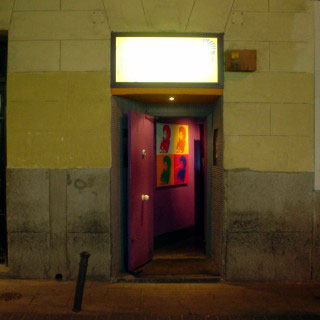 Having gotten used to the area by walking up and down and having a drink in the square, it was time to get more adventurous and try one of the bars whose facade is just a closed door and a name - no windows, few clues. We made an educated guess and ended up in this funk bar, which we liked so much that a few text messages later half a dozen of our friends joined us until chucking out time.
This place is really cool - and funky of course. Along with the funk, which was thankfully quiet enough for us to be able to talk rather than shout, the wall is covered with lots of pictures and posters from classic seventies American black cop films, like Shaft, and a cheesy black, white, pink and orange colour scheme. Best of all, there were t-shirts behind the bar with the bar's in-yer-face name on the front: a snip at €10 each.
When the bar closed, we were among huge crowds out on the street, milling around chatting before heading home or to other bars. At least one of the local residents took exception to the noise, which must be a regular feature of this street, but fortunate I was standing five or six metres from where the bucketful of water hit the ground.
Despite the previous week's visit being so hazy, especially for Jana and Mel, another visit was enough to confirm that this place really is as cool as I remembered it the first time. It was earlier the second time time (11.30 p.m. instead of 1.30 a.m.), so a little quieter, but just as fun. In some pure-play bars, where drinks cost more than most places, I do not really see the point of the noise, pretension and prices, but I really like this place and its music, so there is no problem.
See also