Pub Dickens, Calle de Maldonado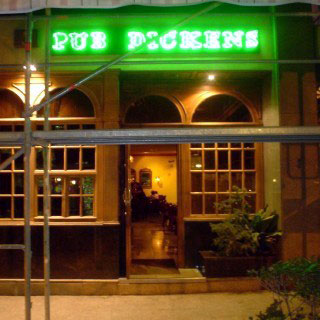 This supposedly English pub is inevitably 'wrong', but does well to catch some details well and be a stylish and pleasant bar without being horribly fake and tacky. The style is actually a bit more like the bar at a smart traditional London hotel than a normal pub, which is fine. The comfortable backed bar chairs, and smartly dressed barman look more North American to me, but that is fine too. The illusion thankfully breaks down when you order a rum and coke, and get a suitably huge measure from one of a large choice of good rums and get tasty salami tapas with it, all for less than €5.
The downside with this place at the moment might be that it is extremely quiet, but then I do not mind being able to hear people talk after the noise of Txirimiri around the corner, especially when I am trying to understand Spanish. Anyway, it is not quiet any more because María and friends never stay very quiet for long.
See also