La Tia Cebolla, Calle Espoz y Mina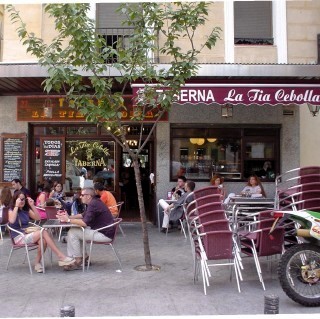 This seems to be one of the better small bars between Plaza Santa Ana and Sol, so we popped in to get some cheese for the second half of lunch. Our €5 'half-portion' of cheese turned out to be fairly huge, and we could not finish it. What is more, it was really strong tasty mature cheese, so I just had to get a glass of Rioja to wash it down with.
The atmosphere is pleasant inside, and all of the wood makes it much more pubby than most of the bars around here. Slightly unusually, there is an open kitchen at the end of the bar, so you get to hear the shouted orders from the waiters, which is cool.
Since I liked it the first time, I too some friends there for lunch the next day. This time, we took the big round table and got stuck in to a whole tortilla (good value at €8) that was tasty but a bit dry, although the two portions of cooked ham in oil helped with that. The other three, who like that kind of thing, also had huge bowls of tomato and mixed salads, respectively, and we ended up having a huge filling lunch (we hardly touched the bread) for €6.50 each, including drinks.
Bizarrely I was back again for drinks the same evening. My plan would not have been to go to the same bar again, for the third time in two days, but then I am not the only one who likes it. It seems that locals tend not to party so hard on Monday nights, so the terrace was mostly full with foreigners. In fact, the eight of us were probably the worst of all, especially once Cuba started ordering shots of something bright green. Anyway, I left 'early' at midnight, and Cuba ended up staying in bed all morning the next day.
See also