Rotterdam cafes & restaurants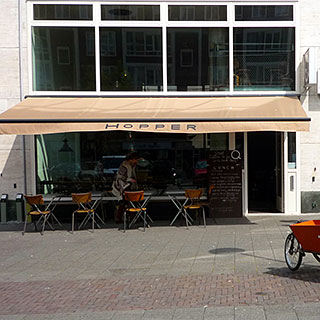 One of 66 Rotterdam Cafe & Restaurant reviews.
Recommendation: go for lunch, and stay all afternoon.
Hopper is something new in Rotterdam: a cafe that might just give UEB and UEB West a run for their money. Like the Urban Espresso Bars, Hopper also has the minimalist bare-wall decor and high ceilings that result in an uncluttered space and an easy-going atmosphere, combined with excellent coffee and and food.
It looks like Hopper is going to be directly competing with UEB's excellent sandwiches, coffee and cake. Not only does Hopper also serve a mean flat-white (a newly-trendy serious coffee); it raises the stakes by baking its own delicious crusty bread and offering a tantalising menu of sandwiches and snacks. Cookies and chocolate cake are one thing, but Hopper joins Paladar and Kip Gallery in serving pasteis de nata. There is even free WIFI and a big terrace.
On our first visit, we started what might be the simplest thing on the menu: a sour bread cheese and chorizo toasted sandwich, which turned out to be so good that we cannot wait to go back and try everything else: the other sandwiches on the menu certainly sound interesting, and the hummus sandwich is reportedly even better than the smoked salmon, which would be saying something.