Rotterdam cafes & restaurants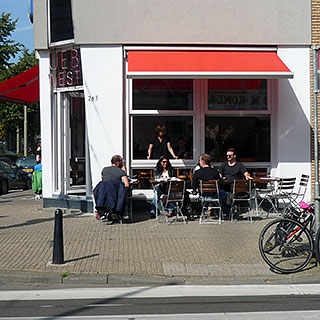 One of 66 Rotterdam Cafe & Restaurant reviews.
Recommendation: go for lunch, and stay all afternoon for coffee and cake.
UEB West, opened in September 2010, is the latest yuppie addition to this formerly run-down stretch of Nieuwe Binnenweg. Although instantly recognisable as the second-coming of the established Urban Espresso Bar in the town-centre ('UEB East'), with its minimalist monochrome decor, UEB West is much bigger and is located on a busy street corner, both of which change the atmosphere. Either way, it is an instant hit and busy at lunch time.
As with the original Urban Espresso Bar, the best things here are the coffee - especially the 'flat white' - and the cake. The best cake is obviously the exceedingly-rich flour-free chocolate cake, with joint second place going to the carrot cake and cheese cake. There are plenty of good savoury lunch options as well, our favourites being the toasted Moroccan bread and the vegetable soup.
For the coffee-cake-and-newspaper crowd, there is a big reading table, and opening hours until 7 pm, so you can hang around until you have had way too much coffee before you have to leave.