Rotterdam cafes & restaurants
Dunya Lokanta

, Proveniersstraat 40a,

Rotterdam

, tel. 2430669 http://www.dunyalokanta.nl/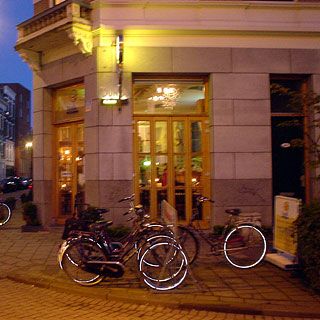 One of 66 Rotterdam Cafe & Restaurant reviews.
Recommendation: go for dinner with two or three people and try to resist ordering the whole menu.
Dunya Lokanta is one of relatively few Turkish restaurants in Rotterdam in the stylish eetcafe category. The inevitable comparison is the similarly popular Nazar, which has similar prices and menu, albeit in a different atmosphere. Dunya has a more traditional feel than Nazar's more modern city style and decor.
The food is good and the menu slightly more interesting than at Nazar, because there are more oven dishes at Dunya, although Nazar is better value. My beef and aubergine stew (€11.75) was good as was the folded pizza I had on my next visit.
The service is not great, mainly because it was frustratingly slow when we wanted the waiter's attention, on more than one visit. This was especially annoying on our last visit because we already hungry when we arrived, so we did not really appreciate having to wait so long to order. Perhaps that is why I was not especially amused when the waiter told us off for calling it a Turkish restaurant; the menu says 'dishes from Mesopotamia and Anatolia', and Anatolia was in Turkey when I last checked.