Paris I: where to go for a drink
Comptoir, 37 rue Berger, I; tel. 01.40.26.66
This mellow bar, at the South-West corner of the gardens next to Les Halles, is just far enough away from rue St Denis to escape the crowds of shoppers. When I popped in I found a welcome combination of candelabra, slightly kitsch decor and a relaxed crowd. Had I been there later on in the evening I would have heard the DJ; as it was I just soaked up the trancy music.

Le Rubis, rue du Marché St. Honoré; Mo Tuileries
The perfect traditional wine bar with a great selection of wine. It might be paradise, but then paradise probably doesn't close at 10 p.m. and all day Sunday. Still, this is a great place to roll the end of the afternoon into the evening, especially after a day's work, shopping or tourism.

Miyabi, Place du Théâtre Francais
Scrummy Japanese fast food just next to the Louvre - good value set-menus, photos of which are posted outside.
Paris II: drinks
Café Noir, rue Monmartre, II
Above average cafe-bar that makes a good stop late in the evening.

Paris III: where not to relax
L'Apparemment Café, rue des Coutures St. Gervais, III; Mo St.-Sébastien Froissart
Café done up like an appartement (geddit!) where every room is the lounge. Best place in Paris for armchairs-with-atmosphere; most relaxing. 1998 update - Oh dear, the staff here have completely lost the plot, together with all traces of politeness or welcome. The idea of cafe-as-flat has been bastardised by designating groups of chairs as strictly for a certain number of people, which kills off any spontaneity, as does the suggestion that one ought to have booked. They've even changed the menu, so in the end I didn't bother. Avoid.

Paris IV: where to relax, drink, drink and eat
Le Loir dans la Théière, 3 rue des Rosiers, IV; Mo St Paul; tel 01.42.72.90.61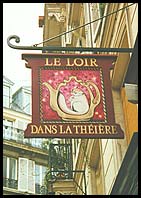 Paris is pathetically short of relaxing snob-free cafes with sofas and armchairs, which probably explains why this rare example was so packed. As well as a wide selection of furniture, teas and cake, there is food that I didn't try. The defining feature of this cafe is that it succeeded where L'Apparemment Café (above) failed - it made it on to the European Cafe Watch S-list.

Stollys, 16, rue du Cloche Perce IV; Mo St Paul
Happy hour at this tiny British cocktail bar makes an excellent start to a night out in Le Marais. You either squeeze inside or chill out on the small terrace.

Flag Café, boulevard Beaumarchais, IV; Mo Bastille
This bar has more atmosphere and better music than most, and even has invitingly comfortable chairs.

Dame Tartine, 2 rue Brisemiche, IV; tel. 01.42.77.32.22
This easy-going restaurant overlooking the water sculptures on the South side of the Pompidou centre serves smallish portions of interesting stuff on toast. Our favourite was the herring with avocado sauce. Friendly service and friendly prices make this place worth a visit, or perhaps one of the other three branches.

Paris VI: where to go hang out, drink beer and eat
La Palette, 43 rue de Seine, VI; Mo Mabillon
Old French style café with decent atmosphere! Intriging paintings and tasty nibbles with your drinks. 1998, 1999 update - Some things, like La Palette, never change. How very reassuring.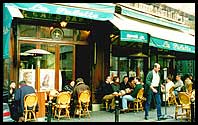 The Horse's Tavern, carrefour d'Odéon; Mo Odéon
There are more beers than you can shake a beermat at in this bar which, despite the name, is not just another 'British Pub'. 1998 update - No change here then.

Le St. Vincent, 26 rue de la Croix-Nivert; Mo Cambronne; 01.47.34.14.94
Storming 165F all inclusive menu; good value and good food, set apart by the amicable atmosphere. Make sure you order Beaujolais. 1998 update - Although I haven't been back, I've heard that this place isn't up to scratch these days; so no promises.
Paris XI: food
Chez Paul, rue de la Charonne, XI; Mo Bastille
Chez Paul is an exceedingly good restaurant that oozes tradition, character and quality without being boringly conventional. It's location, at the end of the busy rue de Lappe, and reputation make it busy so either book or be waiting at the door when they open up.

La Plancha, rue Keller, MI; Mo Bastille
Fantastic and tiny Basque bar and restaurant that has a mouthwatering selection of tapas. Turn up early or you won't get one of the few seats. Eat the excellent sardines ‡ la plancha, and have a glass of Paxaran for 'dessert' afterwards.

Paris XII: food
Viaduc Cafe, av Daumesnil, XII; Mo Gare de Lyon
Upmarket modern bar restaurant with a relaxed atmosphere and decor, and a good traditional Frency menu. The interior is dominated by the bare brick arches of the Viaduc des Arts, which forms the ceiling.
Paris XV: food
Café Pacifico, 50 Boulevard de Montparnasse; Mo Montparnasse
Lively Mexican place with great atmosphere and big portions of very tasty grub.
L'Os à Moëlle, 3 rue Vasco de Gama; Mo Lourmel; 01.45.57.27.27
190F six-course menu de dégustation, sans vin: no farting about with menus - you get what you're given. And it's good.
Café du Commerce, 51, rue du Commerce; Mo Commerce
Big and bright at lunchtime, big and busy in the evening. Smallish portions.
Chez Foong, rue de la Croix Nivert; Mo Cambronne
Above average Chinese; small and cosy.
more places to eat
Bistro Aux Deux Théâtres, rue Blanche, Mo Blanche
This is Le St. Vincent in a posher previous life. Excellent all-in 169F menu. 1998 update - Still at 169F for apéro, three courses, wine and coffee, this place is even better value than it was last year. This is for no better reason than that the food is excellent - probably worthy of twice the price. The service is good too.
Chartier, 7, rue de Faubourg Montmartre, IX; Mo rue Montmartre
Very cheap and cheerful; huge place with fantastic period decor.
Chez Marcel, rue Stanislas
Titchy restaurant with decent traditional fare that transports you back a hundred years or so.