First I went back to Zum Leupold.
Cafe Central, Herrengasse/Strauchgasse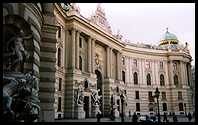 This is yet another one of those big, bright and boring traditional cafes. Actually I like this one because the building is very attractive, and the ceiling, with its columns and chandeliers is rather good. The style of the place is very much like Browns in the UK, but with none of the popularity or atmosphere. The waiter who came to serve us seemed positively unfriendly, and has been rushing us because they want to close (early) at 9.30 p.m., presumably because they don't have enough customers.
I might come back, but if I can't see lots of people through the window I won't bother coming in.