Hilton Harbour
Sail through an eclectic collection of writing by Peter Hilton and others.
Play for Scala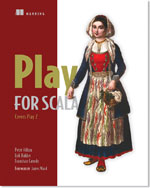 Play for Scala
by Peter Hilton, Erik Bakker and Francisco Canedo was published by Manning Publications in September 2013. The book teaches web developers how to use the
Play Framework
to build web applications using the
Scala
programming language.
Peter Hilton also presents on the topic and is a certified trainer for Typesafe's Fast Track to Play with Scala training course.
Cafe reviews
This web site's author has spent a lot of time in cafes, reading, chatting, drinking coffee and just sitting around. Independent cafe and restaurant reviews with photos:
Rotterdam, Maastricht, Amsterdam, Delft
Kitchener-Waterloo
Madrid
Florence
Leuven, Antwerp
Paris, Hyères
Galway
Luxembourg
Vienna
More writing by Peter Hilton

Travel: Bordeaux, Budapest, Luxembourg, Padstow

More travel: European Phrase Book and the European Cafe Watch, which tracks cafes with sofas.

Rotterdam cycle routes with maps and photos
Elsewhere
Hilton Harbour is just a static web site - a random collection of articles and photos - since before blogs and consumer digital cameras were invented. The more dynamic stuff is elsewhere:

micro blog at Twitter, including book reviews

social networks: FaceBook, LinkedIn, Google+, Foursquare

software writing at Lunatech Research

source code on github

programming questions at Stack Overflow

wish list at Amazon

books at Good Reads

photo blog at Flickr

bookmarks at del.icio.us

cafe maps at Tagzania
Writing by other people

Marion wrote about working in England, my father wrote the poetry, his father wrote about Yorkshire and Dunkirk, and his father-in-law (my great-grandfather) wrote about the theatre.
More: contents, page index, photo index, photos, practical stuff, opinion, computers.