Rotterdam cafes & restaurants
Wester Paviljoen

, Nieuwe Binnenweg 136,

Rotterdam

, tel. 4362645 http://www.westerpaviljoen.nl/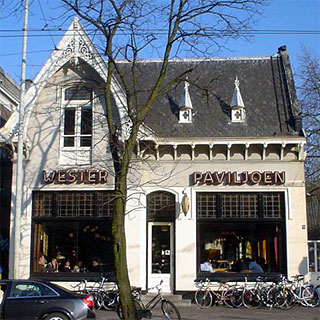 One of 66 Rotterdam Cafe & Restaurant reviews.
Good for: drinks, lunch
Wester Paviljoen is Rotterdam's best answer to the grand café genre - one of the few big busy places that actually has a good atmosphere. It also scores with interesting guest beers on tap and a great terrace in the summer. The food is worth a look - perhaps not the best food in town or the best value, but good stuff and an interesting menu all the same. The lunch menu is best, and the daily specials are always worth a look, especially the vegetarian option.
The most distinctive thing about the atmosphere in the early evening on a weekday is the rich blend of conversations that rises above the music. This is the right way around, as opposed to music that prevents conversation, but perhaps this only works in a place this big and busy, or in a smaller place that wants to be intimate. Sometimes, at this time of day, there will be a small group of people enjoying drinks after work: Wester Paviljoen is perfect for this, as long as you get the good spot at the end of the bar. Otherwise, it is quieter around the reading table, which does not just feature people reading the paper on a Sunday morning.
In the summer, Westerpaviljoen's terrace fills up with the 30+ crowd who want to be seen. This is one of Rotterdam's few great terraces that manages to combine hours of sun, trees and lots of tables.
The service is well above-average, which is a great improvement on the inattentive service that plagued Wester Paviljoen in the past. Having been used to waiting for a long time a few years ago, the staff now take orders promptly and with a smile. These days, the worst it gets is that you occasionally want to loiter around the till when you want to pay, rather than waiting for the bill at your table.