Rotterdam cafes & restaurants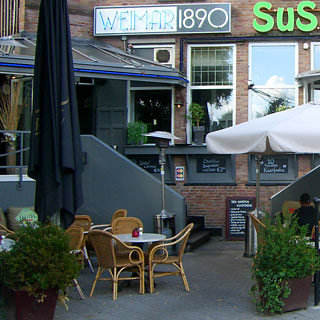 One of 66 Rotterdam Cafe & Restaurant reviews.
Recommendation: enjoy the terrace in the summer, and take your grandparents for lunch in the winter.
Weimar1890 is an eetcafe that recently replaced its cosy traditional pub-style interior for a smarter and more modern design. This is probably an improvement as far as style goes, but on our last visit we sat outside on the terrace, where Weimar scores best. Weimar has the best terrace in town, with more space and sun than any other in the Oude Haven.
What is more the food is well above average for an eetcafe. On a recent visit, we both thoroughly enjoyed the fish club sandwich (€8.50), with three tasty layers between four slices of lightly toasted bread. They also have a good selection of beers on tap, most notably Korenwolf, which is our favourite Dutch white beer and a solid hit outside in the summer. Unfortunately, our last visit was somewhat spoiled by poor service: ordering a coffee, not getting it, reminding someone and finally getting it after twenty minutes involved four different people, none of whom uttered anything approaching an apology.