Rotterdam cafes & restaurants
Vivu

, Witte De Withstraat 94-A,

Rotterdam

, tel. 2140440‎‎ http://www.vivu.nl/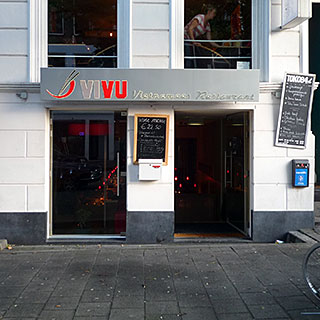 One of 66 Rotterdam Cafe & Restaurant reviews.
Recommendation: go for dinner with a date, but not at the weekend.
Vivu is an interesting variation on Rotterdam's collection of modern Asian noodle bars, being more chic than Dim Daily, the benchmark for this kind of thing. Vivu has a small selection of Vietnamese dishes, centred around large bowls of noodle soup. The food is good, and the fresh raw vegetables and herbs that come on the side for you get to add to your bowl are an especially nice touch. The food is certainly better than at competing Vietnamese restaurant Little V, for example.
Vivu has a warm stylish atmosphere that avoids some places' bright lights; this, and the decent house wine, make it a very different experience to other places with a similar menu. This, and its small size, makes it a good restaurant for a date.
Unfortunately, our first visits featured the occasional problem, which we hope are just down to teething troubles. First, they seemed to be confused about what 'vegetarian' means: after getting the order wrong and bringing the noodle soup with a lump of meat in it, they 'corrected' the problem by simply removing the meat, leaving meat-flavoured soup. Second, different people received dishes fifteen minutes apart and service was absent, despite the restaurant not being on the other hand. On the other hand, our next visit on a quiet weekday evening and without vegetarians was perfect, both food and service.
Overall, Vivu is good, but needs to make sure that it can perform consistently.