Rotterdam cafes & restaurants
Soit

, s-Gravendijkwal 136b,

Rotterdam

, tel. 4363114‎ http://www.soit.nl/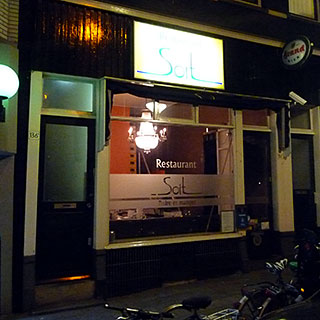 One of 66 Rotterdam Cafe & Restaurant reviews.
Recommendation: go for dinner, on a date, or with friends or colleagues.
Soit is an excellent French restaurant that has achieved a perfect balance in several areas. The food is of excellent quality, while less expensive than at many of the other upmarket town-centre restaurants, and the dishes are interesting without being weird or unrecognisable.
You also get enough to eat - main courses tend to come with potatoes and side salad. In fact, unless you are really hungry, you should resist the delicious hot chocolate soufflé because you also get sweet nibbles with coffee.
The service is attentive but friendly, and the overall atmosphere is class but still somehow informal, which both combine to make a very relaxed atmosphere that still works when you want to entertain business customers, say, or a date.
Interestingly, Soit is in many ways similar to Restaurant Look, two doors down, but we prefer Soit because the whole experience seems slightly more comfortable: try both. Overall, Soit is one of the places that you could go to every week without getting bored of the place, or the menu, or finding it to be a hassle.