Rotterdam cafes & restaurants
Sijf

, Oude Binnenweg 115,

Rotterdam

, tel. 4332610 http://www.sijf.nl/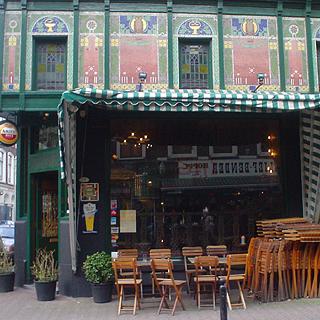 One of 66 Rotterdam Cafe & Restaurant reviews.
Good for: drinks, lunch, dinner
Sijf has the same ownership and brown-cafe style as the now-defunct Tastoe did, but is much bigger, and its location gives it a different atmosphere. If anything, Sijf does better at building the old-fashioned design into a convincing and coherent concept. This is a good compromise between authentically run-down, like some old dive, and totally fake-old, like a newly-opened Irish pub.
By day, Sijf is a good lunch cafe with an excellent terrace, by Rotterdam standards. The lunch menu features tasy and interesting sandwiches (€4.80), soup (€4.50/4.70), salads (€7) and the usual egg dishes and unspecified toasted sandwiches. Our sandwiches were excellent, with thick brown bread, and nuts and rucola on the side. I enjoyed the beef carpaccio with salad and mustard mayo, and on my last visit the smoked salmon with dill and cream cheese was even better on account of having lots of wasabi. By night the suits move in and it becomes more of a yuppie wine bar, with decent evening meals.
Sijf really needs a national smoking ban, because there is so little ventilation that even when it is quiet it is disgustingly smoky. Fortunately, it was not so bad at the table by the door on our last visit.
Sijf is best on a sunny lunchtime, when busy chatter mixes with music and sunlight on the wood to make a lively but relaxing atmosphere, or in the winter when it is freezing outside and cosy and packed inside.