Rotterdam cafes & restaurants
Restaurant Fred

, Honingerdijk 263-265,

Rotterdam

, tel. 2120110‎ http://www.restaurantfred.nl/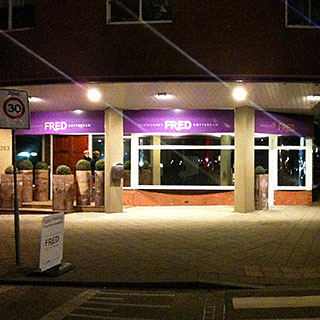 One of 66 Rotterdam Cafe & Restaurant reviews.
Recommendation: go for a very special occasion.
Restaurant Fred is a very expensive restaurant with one Michelin star that is so good that it is worth saving up for. The food is French cuisine with modern and Dutch influences, with local and seasonal ingredients, put together with the kind of skill and creativity that makes the star well-earned.
The fixed-price four-course evening menu costs a relatively reasonable €60 plus around €35 for accompanying wines, but you can spend a lot more than this à la carte, especially with all of the nice extras available, such as a Champagne trolley to start with and a well-stocked cheese trolley later on. In other words, count on €100-200 per head.
Apart from the amazing food and correspondingly good wines, everything else was perfect. The staff are bright and friendly, rather than formal and invisible, which fits well the ambiance; the sommelière was especially entertaining.