Rotterdam cafes & restaurants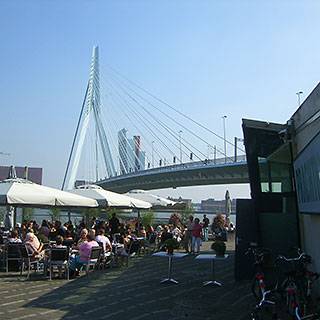 One of 66 Rotterdam Cafe & Restaurant reviews.
Recommendation: enjoy the terrace in the summer.
Prachtig reopened in 2008 with a greatly expanded terrace, with better furniture, making this the most impressive terrace in Rotterdam, with its unequalled view of the river Maas, and unobstructed all-day sun. Apart from the surrounding buildings, what makes the view so interesting is that there is so much going on, with constant river traffic of barges, pleasure boats, the Dordrecht Fast Ferry, and other shipping.
On our last visit, we enjoyed the prompt cheerful service, and drinks that came within five minutes. We ordered from the fairly standard lunch menu, which includes sandwiches, egg dishes, salads and burgers. The food was good, even if not especially interesting, but good value considering the top location.