Rotterdam cafes & restaurants
New Fork

, Coolsingel 141,

Rotterdam

, tel. 413 7946‎ http://www.newfork.nl/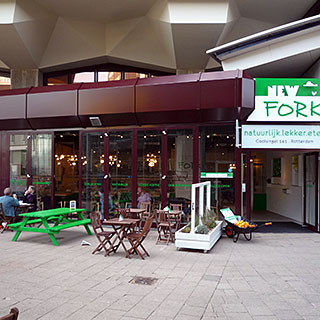 One of 66 Rotterdam Cafe & Restaurant reviews.
Go for lunch.
New Fork makes the best of an ugly but convenient city-centre location next to City Lens with a bright and spacious sandwich bar, whose white tiles and pale wood are more like Lebkov by the station than anything else. The concept is similar: few staff, self-service, and fresh coffee, salads and sandwiches served in disposable packaging.
The menu and walls are sprinkled with the story of everything being suitably organic, biodegradable and natural, but that does not seem to stop them keeping the noisy hot-air blower on and the door open when the outside temperature is at freezing point. Either way, the sandwiches are pretty good, which is what counts.
When it first opened, New Fork was open at 07:30 for breakfast on weekdays, but now they open at 09:00. It is a shame that breakfast opening hours are not more popular in Rotterdam, because this place has the ideal menu for a healthy breakfast, with the likes of fruit juice, muesli and yoghurt.
As well as fairly normal tables and chairs, there are half a dozen armchairs to lounge in at the front. By the looks of things, the facade opens right up, so this could be a place to watch in the summer.