Rotterdam cafes & restaurants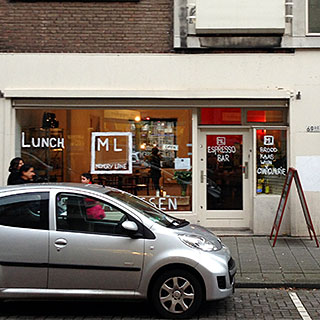 One of 66 Rotterdam Cafe & Restaurant reviews.
Recommendation: go for lunch and to chill out.
Memory Lane is a welcome addition to the West site of Rotterdam's city centre, and a great improvement to this section of Hoogstraat. The definitive cafe in the area is Urban Espresso Bar, but it's small and usually full up on a weekend afternoon; instead you can take in a much more relaxed atmosphere at Memory Lane, until it gets popular that is.
The decor is the first distinctive thing about this place, with old tiles and open kitchen and both rustic and arty touches. This is the cool kind of cafe: opened by a young couple whose personal touches infuse the whole experience. It's a good thing that the interior is good, because the tiny pavement terrace only has a couple of tables.
The menu is extremely simple, which is deceptive because the food is very interesting, based on fancy deli ingredients. The Spanish cecina (cured beef) sandwich on sour dough bread, for example, was as excellent as the chocolate fondant dessert was decadent. It isn't cheap, but then the portions are generous so it's all better value than you might first expect.