Rotterdam cafes & restaurants
Little V

, Grotekerkplein 109,

Rotterdam

, tel. 4131191 http://www.littlev.nl/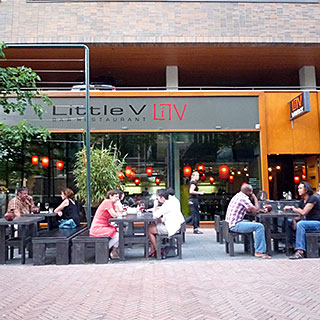 One of 66 Rotterdam Cafe & Restaurant reviews.
Recommendation: try the terrace for lunch, but only if you get bored with Dim Daily
Little V is interesting because there is not much Vietnamese food in Rotterdam, and because it is the first restaurant to take advantage of the newly-renovated square around the St Laurenskerk with its lounge-style terrace.
The food, which mainly consists of small dishes plus rice or noodle main courses, is not bad but nothing special. The experience is hardly improved by the uneven service: some staff seem to know what they are doing, while others were just slow and unfriendly. Ultimately, Little V fails the Dim Daily test, since there you get better food and service for less money. Little V only really scores with its terrace.
There is an unexpected cocktail menu, which we have not tried and which might be interesting. However, we doubt it because the coconut juice option gets mixed with Malibu, which is like putting Fanta in orange juice: someone either has wrong ideas about making cocktails, or just likes them too sweet, is just lazy, or all of the above.