Rotterdam cafes & restaurants
Indonesia Satebar

, Rodezand 34,

Rotterdam

, tel. 4148588 http://www.satebar.nl/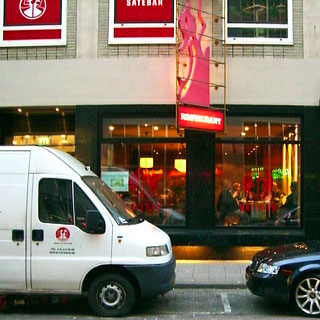 One of 66 Rotterdam Cafe & Restaurant reviews.
Recommendation: go for dinner when you fancy Indonesian food.
Restaurant Indonesia have come up with a good competitor to Dim Daily with their downstairs Indonesia Satebar. It is a stylish place with modern decor and a great atmosphere, which is a great improvement on the traditional and more boring retaurant upstairs.
The menu is a simplified version of the full menu upstairs, and is more oriented towards straightforward manageable dishes than the whole rijsttafel blow-out. The food, value and service, however, remain excellent. For example, the chicken sate with soy-sauce (€7) was tender and tasty, with a deliciously spicy sauce, and fresh salad.
Best of all, for the summer, is the air-conditioning - a rare luxury in Rotterdam.