Rotterdam cafes & restaurants
Het Ijslokaal

, Nieuwe Binnenweg 230,

Rotterdam

, 4256456 http://www.het-lokaal.nl/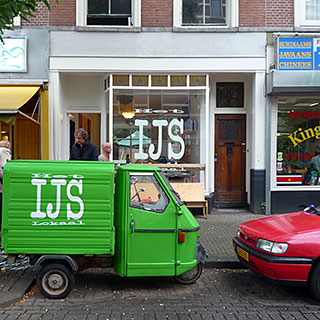 One of 66 Rotterdam Cafe & Restaurant reviews.
Recommendation: go for ice-cream and coffee.
Het Ijslokaal, a relatively new addition to this stretch of Nieuwe Binnenweg, started as a small ice-cream cafe with a clean modern interior that provides a fresh contrast to the older cafes in the area.
Since then, the cafe has acquired a more complete lunch menu and more character inside, making it somewhere to hang around for longer than it takes to eat an ice cream.
Coffee, ice-cream and service are all great, and the interior nice enough to make you want to hang around. The best spots are the stools by the window, and the small outside area at the back, for when it is hot and sunny.