Rotterdam cafes & restaurants
Happy Italy

, Binnenrotte 102,

Rotterdam

, 010 214 0836 http://www.happyitaly.nl/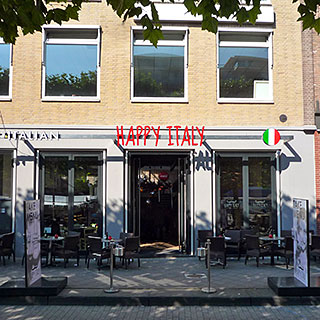 One of 66 Rotterdam Cafe & Restaurant reviews.
Recommendation: pop in for a quick, cheap and cheerful lunch or dinner.
Happy Italy is a busy mainstream Italian-style restaurant that caters to the casual crowd who want a good value meal in a lively atmosphere. It delivers this successfully, without the gimickry and queues that afflict the otherwise similar Vapiano nearby.
The interior is a busy mix of modern decor with a cinematic theme, that varies from one section of the restaurant to the other. Perhaps the most interesting part of the restaurant is the lounge area at the front, which features coffee tables and an unfeasibly long sofa to hang around on and drink coffee all afternoon. This is next to an open bar area and high bar tables to eat at. Further back, the tables become more restaurant-like, with a bright area upstairs with lots of day light during the day. There is a darker room downstairs that might be more mellow and intimate, provided that there the children's room doesn't feature little monsters playing computer games and running amok.
The menu has a broad selection of sandwiches, pasta and pizza that focuses on familiarity and value for money, rather than originality or modernity. The food is about as good as it can be for the price, but no better: our €6 bowl of penne bolognese was reasonably presented, but the pasta was very soft and the sauce did not taste of much. The Caesar salad was a bit better, although drowned in an uninspiring dressing. If nothing else, this makes it clear what you are getting when you spend twice as much on a plate of pasta at Spaghettata. We shall have to go back to see how the pizza compares to the best places.
Perhaps the best thing about this place is the busy atmosphere and service that is friendly enough to make up for its inefficiency. In any case, at the time of writing it is early days for this restaurant, so there is a good chance that the service will improve as the staff get used to being so popular.