Rotterdam cafes & restaurants
Dizzy

, 's-Gravendijkwal 127/129,

Rotterdam

, tel. 4773014 http://www.dizzy.nl/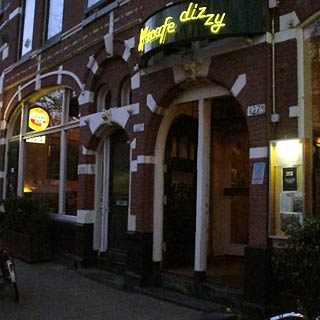 One of 66 Rotterdam Cafe & Restaurant reviews.
Recommendation: go for drinks, stay for dinner, and check out the jazz evenings.
Dizzy is much better than the average eetcafe, with good food, an interesting menu, reasonable service and a great atmosphere. The menu is an imaginitive fusion affair, which is relatively rare in Rotterdam and makes a change from the usual nosh and the meat, veg or fish dish of the day is usually worth a look.
Dizzy is also a good place for lunch, with fantastic hot sandwiches, such as the Miles Davis stewed beef sandwich.
Best of all, though, is the atmosphere, which blends the liveliness of a popular and closely packed eetcafe with a more mellow jazz cafe feel that is much more evident on a quiet afternoon. Also, the garden out the back is a nice extra on a summer evening