Rotterdam cafes & restaurants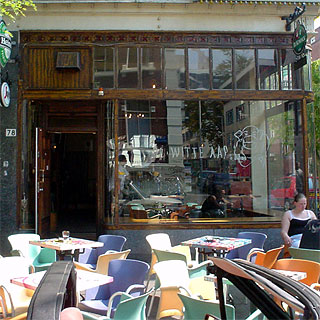 One of 66 Rotterdam Cafe & Restaurant reviews.
Recommendation: go for drinks, but avoid the late-night and weekend overcrowding.
De Witte Aap is probably the best bar in Rotterdam, except for when everyone goes there and makes it the tightest crush in Rotterdam, which is less good. Summer evenings are less bad, because the leafy Witte de Withstraat is one of the better places to have a terrace, and late afternoon wheat beer outside the Witte Aap is one of the better ways to start a summer evening.
Inside is a single small room that centres on the bar, and has a comfy bench around the big corner window at the front. This layout, and the good service from the barmen, make this a great place to sit at the bar for a few drinks. The choice of beer is nothing special, and there is no food to speak of, but that does not really matter because this bar is all about the atmosphere and the excellent music.