Rotterdam cafes & restaurants
Dailywok

, Oude Binnenweg 106c,

Rotterdam

, 010 4112002 http://www.dailywok.nl/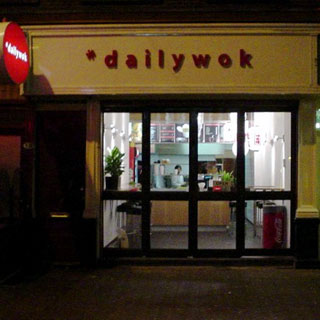 One of 66 Rotterdam Cafe & Restaurant reviews.
Recommendation: try take-away noodles when you have been to Dim Daily too often.
Dailywok, opened in early 2005, is the best new fast food place to open in ages, serving rice and noodle dishes that are serious competition for Dim Daily. The main reasons why this place is great are the low prices (€4-6.50 for main dishes and €1.50-2.50 for side dishes) and the fast, friendly service. No long waits to order or near-starvation before being served.
The food itself benefits greatly for being stir-fried while you wait - fresh vegetables and tender meat that is much better that the reheated stuff that some cheap places serve. The decor is fresh too; its clean and bright modern style make this a nice place to eat in, if there is room - it is really small. Portions are smaller than at Dim Daily, but are still big enough to fill you up, and if you are really hungry the side dishes are pretty good.