Carmina Burana, Singerstrasse
Even though I was planning to look for more unfamiliar food than Italian cuisine, I had to come to this little restaurant just to check out the decor: the murals on the walls are fantastic. I tried to come here on Friday night but there wasn't a single empty chair. Now it's just after 9 p.m. and I have the restaurant to myself.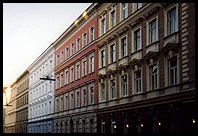 In Vienna it is more common to order a glass of an open wine than to get a whole bottle. The larger of two sizes is a viertel - 0.25l, which is served in one of two ways. Some places give you a tiny wine glass and a little quarter-litre jug. Here I have just been presented with the much better alternative - a quarter of a litre of wine in one huge glass. That is Much Better.
Carefully avoiding the starters called 'something überbacken', which is usually a huge pile of food covered in cheese and baked, I picked the salmon carpaccio. I love smoked salmon and this tastes very good, but they don't seem to have defrosted it very evenly, so the temperature is a bit uneven.
Oops - I seem to have made a mistake and ordered a large plate of butter, cream and ham, lightly garnished with tortellini. I should have guessed that the Tortellini Carmina Burana would be so much oriented towards local tastes. I'd better try to make up for such excess tomorrow...