Touring the Provinces in Wartime
Part of Theatrical Adventures by O.B. Clarence
"We are all travellers in what John Bunyan calls 'The Wilderness of the World' and the best that we can find in our travels is an honest friend. He is a fortunate voyager who finds many: they keep us worthy of ourselves."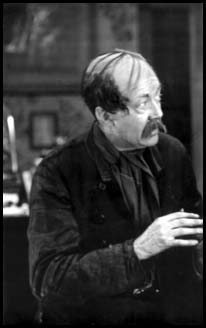 Now, all the sullen clouds seemed to have melted away. Whilst I had been fretting to be of use there were people at work solving the problems of those such as I.
So it happened that I found myself enlisted under the ægis of an organisation bearing the initials C.E.M.A., a wartime Council for the Encouragement of Music and the Arts - has been giving a few performances at the Arts Theatre of Goldsmith's She Stoops to Conquer. The programme prints "this same production will at once proceed to a long tour of the Royal Ordnance Force and Munition Workers Hostels up and down the country." The company is Stanford Holme's and the dear old comedy has been neatly and freshly trimmed and produced by Miss Dorothy Green.
So, here I was, one of a congenial company of Blue Chins, as Dr Farmer, the famous Oxford Mus. Doc., termed actors. We were touring the country entertaining the troops in Garrison Theatres, and war-workers all over the country, in various out of the way places where facilities for recreation did not exist.
We displayed what we had to offer anywhere we could; in small village halls, cinemas, occasionally in the open air. We visited places I had never seen before and many I'd like to see again.
Few travellers then expected reserved carriages, genial porters to welcome us or shoulder our baggage, nor taxis to clamour for our custom when we arrived, frequently after the blackout hour. The theatrical landlady had either gone out of business, was housing evacuees or had been blitzed. Hotels were crowded and tariffs had soared but they fade into insignificance in the light of the universal cheerfulness which shone like a beacon wherever we were. To quote James Hilton, "It was refreshing to find so much sunshine in an overclouded world."
Such was the atmosphere in which we travelled and it was in the spirit of gay good humour - scarcely that of a despairing people, for it was borne of courage, which rendered our tour the most delightful of any I can call to mind: and now we proceed on our way.
HULL is I believe one of the most important ports outside London and possesses its own Trinity House. It has always had an attraction for me, as have most seaport towns. When however we arrived in the dusk of a bleak and misty evening we might as well have imagined ourselves somewhere in the neighbourhood of Spitzbergen.
Stretched out before us lay a white uneven expanse, resembling ice floes, fading away into the distant mists. This was blitzed Hull - acres of ruins mercifully camouflaged in snow. Poor Hull! And yet we were greeted almost with apologies; we were not seeing the city at its best - Yorkshire stoicism - significant of British fortitude.
The next morning the sun was shining, the snow had vanished: the ruins lay exposed in all their nakedness. Picking my way I followed a winding path which I recalled as meandering through what had once been a little park, gay with flowers. Soon I was standing at the foot of the tall column where from its summit, William Wilberforce, famous emancipator of slaves, surveyed the stricken city. Further through the distant haze loomed the masts of shipping on the mighty Humber. Presently I found myself amid the maze of docks and wharves and instruments of lading; I was conscious of the pervading scent of tar and oakum, the perpetual whirr and rattle of the cranes, the varied sounds of hammering and loading, the creaking of the swaying hulks, the shouts of the men and the cries of circling gulls.
Always I have found it difficult, amid scenes so virile and engrossing, to repress a sense of my own futility as idly now I surveyed these toilers, these brawny sons of the sea, with their stained and picturesque attire, their swarthy weather-beaten faces, tanned by sea and storm, their deep-set far-seeing eyes, who haul and swab and polish and dive into murky depths to cook mysterious meals. Many mornings was I drawn to this attractive quarter.
Following now an irregular lane, past old warehouses, quaint inns, ancient and crumbling offices, I came face to face with the residence of good William Wilberforce himself, his veritable home - an attractive somewhat weather-beaten red brick building - now a museum. Here, in a rather shabby looking chamber, which it pleased me to think of as his private den, were preserved some of William Wilberforce's personal belongings - now precious relics - maps, portraits, details of expenditure, engravings, documents and a fascinating little collection of old books.
An adjacent and larger room was almost entirely occupied by an enormous display of dolls gathered together and presented - so a card informs us - by Queen Mary. This collection, I felt sure, had no connection with the worthy William. But in a further chamber I came across something still more amazing, and still more incongruous. Here - surrounded by engravings of prelates and innumerable worthies -hung an enormous oil painting of Ivy Close! This lady was at one time a famous photographic beauty - who, it may be remembered married her photographer. What the fair Ivy was doing in William Wilberforce's House no one could tell me.
On my way back I came to Trinity Church, which I had been informed was the largest in England. There are, I believe, several churches for which this claim is made - notably that fine church of St Nicholas at Great Yarmouth - but, I am told, this has received so much damage as to be hardly any longer regarded as a church. Trinity Church at Hull is certainly vast, and the great height of its interior, its high boarded windows and a certain severity and absence of decoration tends to intensify a sense of vastness; it occurred to me that the incongruity of the open market hard by, the babble of the bargainers and hucksters cries, added a little quota to its grandeur.
We strutted our little hour in the well ordered Playhouse which stands in the modest Square, so reminiscent of some of the lesser squares in London, and like them the more attractive having been shorn of its railings. Will the latter ever be replaced? Surely not.
I would like to pay a humble tribute to the establishment where some of us enjoyed much comfort and goodly fare; suffice it to say that Andrew Marvel regards it with an approving smile from his pedestal nearby.
From Hull to LEEDS. This trivial journey - even in war time - seemed little more that a stone's throw; and here again I was fortunate in my selection of a lodging. Rose Cottage may not have been all that its name suggests - situated as it is in the dingy purlieus of Claypit Lane, but there I was content and loath to leave.
We presented our play in the Grand Theatre - Wilson Barret's celebrated Old Theatre - at one time regarded as one of the largest and best equipped in the Provinces. It is still a pretty good theatre.
This busy city and hive of industry offers perhaps but few attractions to its visitors, but it possesses a veritable treasure-house in Temple Newsam.
This vast and attractive building, a manor house dating back many centuries, is one of the few remaining Great Houses of England. For the last fifty years of its long history it had been in possession of the Wood family, the present Lord Halifax being its last owner.
Today, together with over nine hundred acres of land, it is for all time the property of the City of Leeds. I never fail, when in the vicinity, to pay a visit to Temple Newsam. It is a satisfying sight.
During our week there was a slight deviation - a hiatus - in the daily round of our performances, and this proved to be something in the nature of an adventure. When the curtain had fallen on our play, we were all motored, still decked in our stage make up and costumes - to one of the Military camps many miles away and there we performed before the troops.
We were touring that strange and lovely play, The Cherry Orchard of Tcheckov. There are some who find it difficult to join together the threads of this undoubted masterpiece, even when interpreted by such distinguished artists as Athene Seyler, Nicholas Hannen, Walter Hudd and Rosalind Atkinson - if they will forgive me for dragging them into this business. On this occasion we were not presenting the entire play; in fact we enacted only an excerpt chipped out of one act. Dug thus from its context it must I fear, have proved a little baffling to our audience - even if it included members of the Military Intelligence Department.
After the performance we were, in our turn, entertained in the Mess and over coffee, sandwiches and restorative stimulants, the play - what there was of it - was discussed from all its angles - of which there are quite a few. Various theories were evolved, each differing widely from the other, and so everyone was pleased. I returned to Claypit Lane something after midnight, and the good lady of Rose Cottage was scared almost out of her wits when she saw me standing in her hall - bearded and in strange attire.
And so to BATH. The journey from Leeds, with many long waits and changes - was a mighty long business: but what cared I? Was I not bound for Bath?
The points of interest in this delectable city are so famous and so numerous that to specify them might seem almost an impertinence: but to me it is supreme enjoyment to wander through its streets; its peaceful squares and winding byways, its graceful terraces and crescents - all of a period - gracious and serene.
Can there be anyone with soul so dead, who at first sight of this beautiful and placid city has felt no thrill? Let us gaze our fill while yet we may, for there are those we learn, anxious to reshape our towns and cities now post wartime has come.
Bath had suffered some damage, as have many of our towns and cities. Of the historic Assembly Rooms little but the shell remained. The interior - so flamboyant with ivory and gold - is now no more. The famous candelabra had been stowed safely away so I was told and the pictures too in safety. A portrait of the great Mrs Siddons I recall as noteworthy, her son Henry being by her side. Henry Siddons never climbed to the heights of his famous mother, but he was for some time manager of the Edinburgh Theatre. He was also responsible for adapting - from the German of M. Engel - a considerable work - Rhetorical Gesture And Action. This volume of somewhat doubtful value, is liberally furnished with plates illustrating a large range of emotions; sorrow, rage, joy, despair and so forth; some of these being more amusing than instructive. It was a miracle that the famous Abbey escaped with so little damage. We acted in the Theatre which adjoins Beau Nash's house at the foot of Gay Street - not the old theatre of Beau Nash's day, but I liked to fancy that there lingered around it something of the glamour of his time and that old Quin might perhaps be peeping from the Pit.
Despite the attractions of this lovely city, I contrived during the week, to fit in a visit to Bradford on Avon, not many miles away. Here my sister Phyllis was staying with some friends, or I might never have set eyes on this charming little town, for it is something more than a village.
Years ago, Bradford on Avon was one of the centre of England's wool and clothing industry. Many of the weavers' cottages are still standing, and a few old factories are in full swing today. My sister guided me round this little community. I was shown one of the few extant Saxon churches - improved during the fourteenth century: the lovely old bridge with its twelve arches, the Mass Chapel - later used as a lockup and many other interesting things. I was taken in to a cottage where lived an old man who had been a busy weaver in his day and who had built himself an organ with pipes and manuals etc. of which he was justly proud. It was infinitely touching to observe how pleased he was when asked to play for us. I can still see this sweet old gentleman seated at this instrument, handling it tenderly as he might a little child that he had reared. I believe the harmonies he drew from it, crude though they were, yet strangely melodious, were sweeter to him than any.
And now to BRISTOL.
This comparatively short distance, the late lamented old Bensonian - H. O. Nicholson - would have described as the cast of a small missile.
Some of my early years were spent at Clifton. We respond, I think, a little wistfully when we revisit scenes of our childhood, and I was now conscious of a haze of pleasant memories.
Finding myself in Whiteladies Road, I recalled that, as a child, I was for ever expecting to see these white ladies. I pictured a procession of angels, but they never materialised and I soon forgot them.
I turned now into the road in which we used to live. I failed to identify our house - one of many with gardens back and front - but I had a vivid recollection of leaning one day out of a top window, and looking down I espied our cook - one Mrs Powley, whom for some reason I had no great liking, going down the steps leading to the basement. Impishly I let fall a slipper which struck her on the head. Mrs Powley complained to my mother who upbraided me. "Poor woman! You might have brained her!" This alarmed me. I pictured her brains like little white marbles - rolling down the steps. "Now go and tell her you are sorry." This was my penance. I found Mrs Powley sitting in the kitchen; I approached her and told her I was sorry I had hit her with my slipper. She clutched hold of me and started crying: then I cried too, whereof she let go of me and mopping her eyes sobbed out, "I'm really a silly old woman!"
"You're not; you're not," I countered, "I think you're jolly." Whereat she laughed and I laughed too. Then she got up, "Oh go on upstairs, I've got some work to do." After this we were great friends.
Now turning into Pembroke Road - that long thoroughfare that takes us to the downs - I came to a corner house and paused. Instantly I knew it was from here that as a small urchin I trotted to and fro from school, and there flashed across my mind an episode I had long forgotten.
One day, I had gathered my few books together and was about to set out for home, when with a sudden rush and flurry the Headmaster entered. He was very angry. Summoning an elder boy by name, he bade him lay himself across a desk and then belaboured his poor body with a cane. I stood by the door, incapable of movement - paralysed with fear. The whole scene was now vividly before me! The tall figure of the master, his face pale and tense; the boys around motionless and silent, all eyes bent on the wretched victim who uttered no sound. Had he cried out it would have been a relief: I had not known that things like this could happen. And while I stood there, frozen with horror, not being able to take my eyes away from the scene in front of me, the master turned, and looked as I thought in my direction. In a panic I escaped through the open door and gaining the road - fled homeward as fast as my poor legs would let me, till shaking and shivering I found a haven in my mother's arms and sobbed out my pitiful story - a silly little boy.
How odd it seemed to me, that the sight of that house, bereft now of any scholastic significance, should have recalled this shameful weakness to my mind. Yet, I still think the privacy of the study to be a fitter place for punishment, and so I believe my mother thought, for I never returned to that school; nor did she allude to my foolishness again.
It will be patent that at that time I had but little knowledge of Bristol, but it has been my good fortune since to visit this grand old city many times: and on each occasion it has gripped me more firmly.
It had never occurred to me to determine where lay the dividing line between Bristol and Clifton, but now I decided that as we set foot on Park Street, that steep and fashionable shopping centre now mostly ruins, we leave Clifton behind - soaked in respectability.
Not far away was the Prince's Theatre, where I saw my first Pantomime, and where years later I had myself performed on various occasions when touring with some company visiting Bristol. Soon was facing it; I saw the name - Prince's Theatre - bravely significant in gilt letters on its frontage; a bar below was serving customers and everything seemed in order, till through the framework of the many windows as we gazed up we saw the sky, and on the declivity below, the fragments of the roof and walls in dismal heaps of shattered masonry and rubble.
Not a long way down the hill is St Stephens Church, and on one of its walls there is a brass memorial to "George Macready Chute - comedian and manager of the Prince's Theatre." This fine old playhouse was one of the most famous in the Provinces. Doubtless it will rise again. Meanwhile - the old Theatre Royal - one of the oldest - if not the oldest theatre in England - far down in the old city, had been restored and reopened with much trumpeting, and welcomed us to those boards whereon the great Siddons trod.
At the end of Park Street we come to a pleasant triangle of turf, gay with flowers and bordered by tall elms; beneath their shades are seats where aged people doze and nursemaids watch their charges. On the further side is Bristol's lovely cathedral and the venerable Norman gateway. In a line with this and in keeping with their ancient neighbours and like them clothed in the city's grime are The Public Library and city offices. At the apex of the little triangle Queen Victoria surveys the city, happily unconscious of the strange building which has risen behind her back. Here, occupying the entire base of this important and desirable site we behold a monstrous curved erection, of what style of architecture no one could tell me - with a sloping roof, a frontage of red brick inlet with four tiers of small square windows. The red brick front, I was assured, is to remain uncovered. This amazingly uncouth structure is destined to be The New City Hall. Let us pass on.
Bristol is a city of Churches. Spires in all directions stab the sky; many alas standing desolate above an empty shell. Yet amid this havoc, that beautiful and famous church St Mary Redcliffe - the loveliest of them all, remains unscathed. On the little green below, inside a railed enclosure, is the monument of Thomas Chatterton - the boy poet who purported to have discovered in the Muniment Room over the Norman Porch the Rowley manuscripts. He died, poor lad, by his own hand. Here he stands, a solitary picturesque little figure in his scholar's cap and gown.
Almost immediately behind St Mary's, but some distance away on higher ground, is Somerset Square, a residential quarter of some distinction, today, but four houses remain. In contrast - on the level ground far below - is Queen's Square, one of the largest in the county - spacious and dignified, composed of charming old Queen Anne and early Georgian Houses; doubtless at one time the residences of Bristol's wealthy merchants.
Not far away, tucked in amongst old warehouses and dingy offices, there lies the delightful little retreat, The Merchant Venturers and Seaman's Almshouses, built two and a half centuries ago. A picturesque little archway gives entrance to a small stone-flagged square, lined on all sides with the dearest little two storied cottages, a pensioner in each. Over the centre entrance is a tablet bearing a rhymed stanza - too long to quote in full - commencing:
Free from all storm, the Tempest and the rage
Of Billows - we spend our age
Today but two sides of this unique little square remain. One old pensioner - nearing eighty - was dug out - so he told me - the day following the blitz. It is saddening to think of these fine old mariners having spent the better part of their lives braving the perils of the sea, having towards the end of their days found a haven, only to be blasted out of it.
Bristol is a fascinating city which I seem to extol but lamely and in guide book manner: yet it possesses attractions not dealt with by guide books.
Wandering around and about the densely populated districts of this ancient city we come across maze-like little paths and lanes which wriggle their way enticingly up the hills. You may perhaps have strayed from the highway, attracted by some old print or bookshop and wandering along have come across some stone steps which of course you mount; you find yourself following a winding path between high walls, whereon ferns and flowering plants have established themselves and - to quote some ancient bard I cannot name - "pensile ivies cast their penumbral shades". Intrigued you wander on, still ascending, perhaps descending a step or two, then up again, slightly conscious of the excitement of the explorer. Here and there, in odd places, on ledges and shelves of rock, you notice little dwellings that seem to have been cunningly dovetailed in, after the manner of a jig saw puzzle: windows of odd shapes and doors confront you in unexpected places: paths suddenly invite you: a corkscrew track inveigles you into a kitchen yard and you hastily retreat. Below are roofs and chimneys and above little cottages seem - as it were - to have been poured into crevices amongst their neighbours. Gay little gardens smile from impossible places: one would hardly be surprised to see gnomes faces, peeping and grinning from above. Then you turn a corner, and suddenly - dazzled by sunshine - you find yourself, a little self consciously, in a thoroughly sober and respectable street with which you are familiar. This little rascal of a lane has revealed to you a short cut and next day you boast to your friends of your discovery.
Much there is in Bristol to be sought for. When on my travels, should my train dally for a while at Bristol, there are many things and many places that call to me. There is that little gem of a Botanic Garden, modestly hidden behind the University that owns it, housing a precious collection of live and lovely things, assiduously tended - meticulously labelled, and only revealed to me after many visits to the city.
The high suspension bridge, which at one time spanned our Thames, now finds itself high above the Avon Gorge, and looking down we see the trains crawling - like tiny centipedes - worming their way in and out of tunnels in the rocks so far below. The Cricket ground at Clifton College where Gloucestershire played many of their matches in vacation, when we could hear the deep voice of W. G. Grace roaring across the field, calling for his partner to run. A walking tour - across the Mendips to Glastonbury and Wells and on to Blandford. Cobham Church. The Downs at Clifton; Picnics in Leigh Woods. The Cathedral, The Zoo, Cabot Hill - from where on a fine day one could see Dunderry Cross, miles away across the valley. Bristol holds for me a wealth of memories, and I pass on - grateful and refreshed.
Someone once said to me, "What lucky fellows you actors are, to be paid to travel about and see all these interesting places," and I was put in mind of this when our train drew up at Cambridge.
CAMBRIDGE railway station - drab and impersonal - gives no indication of the glories to which it is the gateway. Accommodation in Cambridge - as one might expect - is not so easily come by; but there lies in Trumpington Street a hotel which reminds me of those terraces facing the Downs at Clifton, and here I and others of my calling lived like monarchs; succulent kickshaws being set before us after our evening's work.
Setting out from here and passing the Fitz William Museum - in which during the week I found myself in solitary contemplation of statuary and old and modern masters - I was presently standing before the noble gateway of Trinity College, where under the huge clock one gains entrance to Great Court. In this vast square where stands the graceful fountain, subject of many ribald legends, my father and others fleet of foot used to sprint - so he would tell us - along the flagstoned paths bordering the square while the clock was striking twelve. Here too I have visited my brother who had rooms in Great Court, and he once secured me a bed in Neville's Court hard by, in rooms occupied by a Don, solely for coaching. I remember passing through his study one morning when he was taking a class and feeling abashed; also a breakfast party where beer was served - possibly Trinity Audit - breakfasts at that time were I think the chief form of hospitality - and there I met Inderwick, later a famous K. C. and Erskine Childers - afterwards a memorable figure. This of course was during the days when I was studying the human frame in the dissecting room at University College Hospital, in London. How long ago it seems! I have a theory that all actors - save those who come from a theatrical family - have originally started in some other calling: how true this may be I know not - nor does it matter.
Now crossing Great Court and marvelling at the freedom with which strangers are permitted to roam about these precincts, I crossed into New Court - and ran into an old friend Major Morris - late Chief Officer of the London Fire Brigade. He had married my Mabbie of the Little Minister Company - in which we toured so many years ago, Nita Fayden. They had bought a lovely old house several miles outside Cambridge. I lunched there the next day, and we relived those times all over again.
It was vacation now at Cambridge and so, alas, there were no services in the lovely chapel at Kings, so famous for its choir. Wandering inside I heard distant singing, and tiptoeing to the door of the music room near the Vestry I listened to the lovely voices of the choir practising responses.
Across the road, tucked away in a little court, warmed and equipped with bathrooms and other comforts, was the little Theatre in which we performed our play. This had been built by Professor Keynes, who regaled a few of us one evening, after our performance in the little Club which almost forms an annexe to the Theatre. Here from its cellars the Professor had brought champagne - the remainder he told us he was reserving till the end of the war. He and his wife were ideal hosts. Professor Keynes, it will be remembered, married the celebrated Russian dancer Lydia Lopakova. In the supper room a cloak room had been improvised, really little more than a shelf in a small alcove, which became a jumble of hats, scarves and coats, and to this tangle I ascribe my blunder; I walked away with the Professor's hat. I beg that this inadvertency may not be attributed to the potency of my host's wine, champagne being a wine I have never been able to appreciate - for I drank claret with my host. Some little time after this I met him at the C.E.M.A. headquarters in Belgrave Square - he was now Lord Keynes - and reminding him of the "hat affair" he said, "Yes, after that I collapsed." This of course was his jest: I knew he had been laid up.
I tried one day to discover the old Theatre which I remember used to be somewhere near Parkers Piece, but without success. It was in that theatre many years ago, that as a callow youth with but a few months' experience I had acted in such forgotten plays as Hazel Kirke, Tom Cobb and Daisy Farm. On New Year's Eve, after our performance, the landlord of an adjacent hostelry invited us into his snuggery after closing time, and as the bells were chiming the midnight hour, we emerged, glasses in hand, and cavorted round an ancient mulberry tree and toasted the New Year in - as the snow was falling - all very merry. One of the company who had lodgings nearby, inveigled me upstairs for "just one more", and when I finally departed he insisted on coming with me a little way to finish some story he was telling me. After we had gone a little distance he felt his feet were getting wet and recollected that he had taken his boots off upstairs.
I always find it difficult to turn away from Cambridge, but we were now due back again in Yorkshire.
We arrived at HARROGATE long after the black-out hour. Burdened with impedimenta I toiled up the steep slope from the platform and reached the station exit. Enquiring about taxis the ticket collector would not commit himself, but told me there was a rank across the way. It is, of course, on these occasions that one's torch ceases to function. Emerging into the darkness with my bags I observed some lights in the distance: setting down my burdens I called out, "Taxi, Taxi!" After a second effort there was a reply, "Here you are sir - straight across." Cheerfully picking up my luggage I advanced - still calling and again from the same direction came the reply, "Here you are, sir," but this time I detected a smothered laugh. Someone was having a game with me. I found my way back to the station - not without some difficulty - it was almost in darkness - and I found a porter putting out the lights preparatory to locking up. He proved a good friend, for having made all fast, he shouldered my belongings and bidding me follow close behind - guided me for what seemed to me an interminable distance to my hotel where I was expected. I have never parted with coins of the realm with a better grace.
The next morning a buzz of conversation guided me to the dining room and I was directed to a table which I was apparently to share with a young fellow in Air Force Blue. He proved to be an entertaining wag. I remarked to the maid who waited on us that the Hotel seemed very full and she said, "Oh yes, sir, we've got over sixty people staying here."
"And some over seventy," added my young friend, with a wink at me. "Didn't you know that Harrogate is noted for its curios and antiques?" Indeed I had noticed that there was around us a preponderance of the sere and yellow but I believe this caustic pleasantry was not directed at myself but was the exuberance of a sprightly mind.
The hotel I found to be a very pleasant establishment. The Proprietor was ever solicitous for my comfort - "Anything you want just let me know". Very urbanely next day he offered to motor me down to the Assembly Rooms where we were to perform, but I thought it wiser to decline his kind offer, so that I might the more easily find my way back when it was dark. As it turned out I might just as well have accepted, as I got hopelessly lost when the show was over and I set out for the Hotel. Turning around vainly like a goldfish in a bowl, I bumped into a couple who turned out to be two W.A.A.F girls, who having decided that I was only a harmless lunatic, turned me about and marched me between them to the Stray, from which I knew my way. I related this experience to my stable-companion at supper: he said I was a gay dog. Next day I purchased ten batteries for my torch.
The weather was perfect all the week, and the Stray attractive and full of activity, parades, football matches and Military Drills. I made my way across the grass to a small domed structure which I found housed a spring of the famous water. This of course I sampled and found little different from ordinary water. My young R.A.F. friend told me later I should have visited the Pump Room, "There," he said, "the water is of so revolting a consistency that the cripples and afflicted of both sexes fight for it every day." I think this sprightly young fellow supplied the major part of the diversions during my visit. But on the day of my departure I got a real surprise. I went to the office in the Hotel to pay my bill, and the manageress told me that the Proprietor had gone to his farm but had left word that I was to pay only two guineas. I was astounded. This being half the amount I had agreed to pay. Presently the manageress - asked for a reason - said, "Well, he's like that; sometimes when he knows people are working or fellows in uniform, he won't let them pay anything at all."
Back in London sometime afterwards I was relating this unique experience to a group of friends, and later someone noted for extreme parsimony asked me for the name of the Hotel. Alas! my memory had failed me.
We arrived at NEWSCASTLE-ON-TYNE at a very late hour. After alighting into the dimness of the huge Station we found our way into the Stygian darkness of the Yard outside. I hope I may be pardoned for harping so constantly on this black out business, but it really provided much of the diversion of the tour.
I had booked a room at a hotel, but taxis there were none: I was told that one would be returning shortly and our Business Manager and I agreed to share it. In course of time it loomed into view, escorted by an alert youth who had lured it away from other passengers. Our paraphernalia was bundled in and we started on our way. To my great surprise and, to the amusement of my companion, the taxi - after a few yards - drew up in front of my Hotel, the Douglas - just opposite the station. The landlord was greatly amused to hear that I had hired a taxi to cross the station yard. He proved a genial host. The second morning when I had delivered the key of my room at his office window he enquired how I had slept. Now, I fear that with advancing years I have acquired the habit of inflicting childish jests on the unwary; having noticed an inscription painted on the wall of his hotel, I told him that I had slept quite soundly, despite the warning notice on his hotel. As he was puzzled, I reminded him that the notice ran "The Douglas Hotel Vaults". He was immoderately amused at this, and the next day when I handed in my key he retailed it at considerable length - to a group of his cronies - pointing me out as the author of this cryptic foolishness. On subsequent mornings I was obliged to watch furtively till he had retired to the depths of his office before venturing to pass by.
It is difficult to believe that the staid and peaceful city of Newcastle was at one time besieged, but years ago the Scots were in occupation of the City for over a year: at another time Charles I was imprisoned here for nine months; and ten years later Cromwell entered the city at the head of an army some sixteen thousand strong. I broadcast these details which I got from a guide book. Leaving the hotel I came to Grainger Street - named I was told after the architect of that name - and to Grey Street, where stands the Old Theatre Royal in which we performed. This playhouse, with its handsome portico, lends a note of faded grandeur to that steep thoroughfare. The tall column at the top of the hill is the more remarkable, the figure on its summit having no head. I had imagined this decapitation to have been due to a bomb but was told "it just fell off of itself" in a thunderstorm. This headless statue was that of Earl Grey who became Prime Minister. He was one of Newcastle's famous men. He was responsible for many beneficial measures, the most famous put an end to the employment in factories of children of very tender years.
Needless to say I visited some of the City's relics - The Black Gate, which formed the entrance to the Royal Castle, the Stone Keep, built I was told by Henry II. But these ancient structures no longer retain the settings which is their due. They lie rather ashamedly I thought, in a quarter of the town which, if not exactly disreputable, has undoubtedly seen better days.
Newcastle owes not a little of its fame and history to the Tyne, where in days gone by, many of His Majesty's ships and famous liners have been built.
Strolling down the hill towards this important river and following a steep path I turned a corner and was faced with a sight that almost took my breath away: surely one of the most imposing sights in this fine city. I was standing by the brink of the river at the base of one of the huge supports of the great bridge itself: an immensely massive bulk from which springs one of those gigantic arches whose apex almost seems to touch the sky. I was awed by the immensity of this structure which towered above me to such heights. I have no knowledge of the genus of bridges; I have had no dealings with stanchions, with cantilevers, girders and bastions or any other intricate component of these huge contrivances, these steel miracles of engineering, triumphs which rear themselves into the sky and fade away into the dim perspective of the opposite shores. The longer I gazed upon these immense magnificent tokens of man's power the more conscious was I, that I was a being of small concern. While under the enchantment of the enormous bulk in front of me, I became aware of a small door, inlet near its base. There must be then a chamber within! Timidly I approached nearer, feeling on the verge of a discovery. To my amazement I descried on the opposite wall a placard on which was the instruction "Ring for the lift"! Surely I had no business here! This place was probably the private sanctum of some official - probably the City Engineer. I was about to steal away when I heard steps outside and a gentleman entered and immediately pushed the button, and instantly the machinery was set it motion. Turning to me he said with a smile, "Coming up?" I stepped inside, the iron door clanged to, and we were swiftly borne to the roadway above. Amazing! This lift then was free for the use of all. For any Tom, Dick or Harry like myself.
The next day I brought one of the company to this spot. I pressed the button as to the manor born. We descended to the river's brink and I believe he was impressed with my knowledge of the city and my intimacy with the machinery of this monstrous bridge, which links Newcastle with Gateshead on the other side of the Tyne. Not far away is another bridge, which after a warning hoot, swings round its central span obligingly so that huge steamers with high funnels and vessels with tall masts may pass by. And if this were not enough - a third bridge of prodigious height, accommodates passenger and goods trains on its highest level, motor and other wheeled traffic below and on either side there is a footpath for passengers.
Other attractive aspects can be found in this great city, such as the pretty little Park "Jesmond Dene" and Portions of the old city walls, but all my admiration was for these wonderful bridges.
Our little efforts, our entertainment seemed trivial and puny after making acquaintance with these noble bridges. Here again we were driven some miles outside the city to some military encampment, and endeavoured to entertain the troops. On this occasion we presented a mixed bill. My contribution coming on early in the evening it was kindly arranged that I should be driven back when I had finished.
Accordingly I was assisted into a huge army lorry, which could have accommodated a considerable portion of a Battalion, and a lady member of the forces climbed in and I seated myself beside her. This sprightly girl drove through the darkness at an alarming speed, and chatted to me gaily all the time about her family, her school days, our entertainment, and her boy friends, and I was genuinely sorry when we drew up outside the Douglas Hotel. I felt it had been a most successful evening and pleasant ending to the week.
BURNLEY - I can't remember how many years it was since I had visited Burnley. I had been provided with a list of recommended apartments but had no information as to their relative values.
Sheridan Road, however, caught my eye, and with memories of Teasles, Backbite and old Noll, I had written and booked in. It was not, I fear, a fortunate choice - not I hasten to add through any fault of my worthy hosts. I found, however, that Sheridan Road lay at the summit of a steep hill in a district named Harle Syke - some three miles outside Burnley, to which there was a bus service every hour. I felt that the celebrated Brinsley had let me down. After an evening meal, of which Mr Sheridan himself might have approved, I remained disgruntled.
The next morning the sun was shining, and from my window I saw green fields where cattle browsed, while in the valley far below hung the sullen grime of Burnley's chimneys.
The following day there was a change. The sky was sullen, there had been a heavy fall of snow during the night, followed by a thaw, and the third day a severe frost which turned the soggy paths into traps for the unwary; and this day there was a matinee. I must bestir myself.
Warily I made my slow way to the bus stop - some little distance down the road, and there I waited.
The long road which curved its way to Burnley was deserted; an icy wind drove frozen particles around me and still no bus.
Presently a woman called to me from a cottage door that the omnibuses had stopped running. This was disconcerting news. I must lose no time. I started briskly off. Hardly had I advanced a yard than my feet flew up into the air and I sat down hard. Scarcely had I struggled to my feet when I heard the sound of an approaching car. Stepping smartly towards the side of the road to avoid being run over I at once repeated my acrobatics. To attempt to rise would be a waste of energy; moreover my interest was centred on the car which had passed me by and was now drawing up. The driver now descended and having picked up my hat, made his way towards me. He manifested some concern that I should still be seated on the road and he enquired if I was injured. I rose with some difficulty and endeavoured to convince him that - so far as I knew - no bones were broken, but I was conscious of some discomfort here and there which was accentuated when he brushed me down with what seemed to me an excess of energy.
I explained to this gentleman that I was due to appear on the stage of the Victoria Theatre that afternoon. Mention of the Theatre had a magical effect: he would be pleased to give me a lift if I wouldn't mind going a little out of my way. Would I mind? I would have fallen on his neck there and then in gratitude, but that I had too many falls already. He assisted me into his car and I was greeted by the pleasant aroma of freshly baked bread.
It appeared that this good Samaritan was a master Baker delivering his own wares - his daily roundsman not having turned up. Was ever wayfarer so fortunate as I? He proved a genial companion; moreover he was interested in the theatre, having been an ardent playgoer in his youth. His favourite actor was Edmund Tearle and his pet actress Mrs Baudman Palmer. He had seen her three times in the role of Hamlet. We chatted together like old friends, and I was pleased when he allowed me to serve some of his customers, and was genuinely sorry when I had delivered the last loaf.
When I finally alighted by the Victoria Theatre he waved away my thanks, shouting cheerily as he chugged away, "I shall come and see you!" I fancied however he had been conscious that I was fingering some coins in my pocket and I was grateful to him for having so adroitly spared me a rebuff.
When I entered the Stage Door of the Theatre I found I had been causing some concern, having run things rather close. Changing hastily into my stage garments revealed some tenderness in my gluteal muscles: I hoped this might be of some assistance in representing the halting gait of age.
To contemplate returning to Sheridan Road that evening was, of course, out of the question; so having despatched a telegram to the good couple I secured a room at a hostelry close by, where, when the evening performance was over I did full justice to the good fare in front of me.
The waitress, at the conclusion of my meal intimated that there was a good fire in the room next door, and thinking she was anxious to clear away I took the hint. It had been a long and fairly strenuous day. My experiences on the Burnley road, which had ended so happily, had been followed by two performances at the Theatre, so that it was with a sigh of satisfaction that I lowered myself, very gently, into an armchair.
I suppose I must have dozed off, for presently I became conscious that there were other people in the room: I was aware of gay chatter and the chink of glasses. Fearing I had been monopolising the fire I attempted to rise. "No - don't move," a lady said. She explained to me that she and her companions were members of a concert party, giving entertainments in the neighbourhood but which the weather had interfered with. So! - We were fellow sufferers! I was now introduced to the members of the company. They were going to have a little singsong; a lady asked me, would I mind if she played the piano. I assured this lady, who told me to call her Maud, that I should be charmed. Accordingly she seated herself at the piano and proved to be a skilled executant. She attacked the keys with some vigour; roulades chased each other in quick succession; rivulets of melody swelled into cascades under her agile fingers, merging finally into the air of some popular ballad of the moment, and the company now breaking into the general chorus I found myself croaking in appreciation.
The waitress now appeared. Were we, I wondered, making too much noise? Not at all: someone had rung the bell and the girl was waiting for orders. I begged to be allowed to regard this round as mine; there being some slight demur I pleaded that I was being so well entertained it was only fair, and here I was supported by Maud - "It's all right, boys, he's a sport". Two gentlemen of the company now obliged with a comic duet, evidently an old favourite, there being much applause in which I joined. I ventured now to suggest to Maud that she should favour us with a song. "Not me, my dear! I've got a rotten cold. Ask Freda. Freda darling, sing us Little Johnny's Friend - oh, it's lovely, makes you cry it does, come on Freda - Oh, be a sport! Be matey." Thus adjured the fair Freda - protesting that she hadn't sung it for donkey's years, got up on her feet.
This song, I should explain, was on similar lines to Milne's Cristopher Robin and described how little Johnny, kneeling at his little white bed prayed to his friend up in the sky.
The solemnity of the opening notes evoked a corresponding hush upon the company and Freda - who possessed a well trained contralto voice - got under way. Any hesitating pauses on the part of Freda were filled in by Maud thrumming the notes by way of a prompt, but when the fair singer was apparently nearing the culminating moment, she stopped dead. "Go on!" shouted Maud. "Go on yourself!" replied Freda. "I've forgotten the bloody words."
Under the confusion and babble of voices which followed this abrupt descent from the sublime, I stole away to bed: I felt I had reached the zenith of entertainment and like the toiling blacksmith "had earned a night's repose". Burnley - alas! was the last town on our list, but it had been a most enjoyable tour.