---
Shopping in Town
To see all of the main shops, start at Place de la Victoire and walk down Rue St. Catherine , turn left at Galéries Lafayette and walk up Rue Porte Dijeaux to Place Gambetta where there is a Virgin Megastore. As well as the Meriadeck shopping centre there is the St. Christoly shopping centre between Cathédrale St. André and Rue Porte Dijeaux where there is a big Fnac , which sells books, music and electrical gear. To get there, get off the F bus by the cathedral at Pey Berland three stops after La Victoire .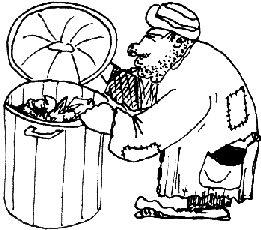 There are plenty of cheap places to get food
Some things cost a lot more in France such as CDs, developing photos and getting a haircut. Generally the cheapest place is Auchan in the Meriadeck shopping centre which has three floors and sells just about everything.
Supermarkets
The most convenient supermarket is Casino just outside the campus on the F/U bus route to town. It's quite high quality and not the cheapest one. Other supermarkets include LeClerc in Pessac , Géant Casino in Pessac near the motorway and an absolutely huge Auchan at Bordeaux Lac . Generally, bigger means cheaper, although you always seem to end up with more than you can carry and spend too much anyway.
---

Hilton Harbour - front cover - contents
Everything You Always Wanted To Know About Bordeaux - A Guide For Clueless ERASMUS Students ©1995 P. Hilton All Rights Reserved World-Wide
Written & edited by P. Hilton. Designed & published by P. Hilton. Contributions by G. Pharoah, D. Richardson.Illustrations by Yann. WWW version ©1997 P. Hilton.