On Campus
At first it may seem that the campus is completely dead after dark. It is. If you don't feel like studying have a party in your room, go to one of the cafeterias until they close or into town. Of course, if you do have a party, you have to turn the music off at 10.30 p.m. and go to bed like all of the other students...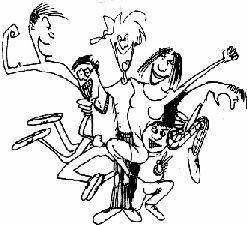 The night-life in Bordeaux is very good - there are more places to go than there are nights in the year. The main places in town are Place de la Victoire and Place Gambetta although there are small bars all over the place. Bars stay open until at least 2 a.m. but there are quite a few places that stay open later.
Place de la Victoire
This is where the bus F gets in to town and is the main student hangout, especially on Thursday nights. It seems as if this is the 'centre' of Bordeaux because directions to places tend to start off 'well you know Place de la Victoire ...'.
Place Gambetta
Place Gambetta is a bit more upmarket than Place de la Victoire and has the most chic cafes in town. They are not cheap. A typical example is Café Regent , which is great to sit outside because there are big heaters so you don't get cold. Possibly the trendiest place to be for a young Bordelais is the cafe at the top of Virgin Megastore or even just hanging around on the pavement outside.
Cinemas
There is quite a good choice of cinemas and they all do a student rate. On certain days there are special tariffs - often 25F. There is Le Jean Eustace in Pessac and in town there are four - Le Français, Gaumont, Trianon Jean Vigo and UGC - all around Place Gambetta . There's also one near Barrière St. Genès but no-one's tried it out.
Clubs
Clubs are expensive. Entry is usually at least a fiver although this includes a drink. Best known are Le Caesar in town and Macumba in Merignac which you can only get to by car. There is also La Lune on Place des Capucins near Place de la Victoire which is really just a bar with bands that stays open until 5 a.m..
English & Irish pubs
If you're feeling really homesick or just can't do without a pint of stout or bitter, a game of darts or British football on the telly then there are several real pubs. It can make a change from the local bars although you pay through the nose for it - where else does a pint of Guinness cost over four quid? There's The Connemara , The Dick Turpin , The Yorkshireman, The Cambridge Arms, The Golden Apple and The Wild Geese. They are all very friendly and are even popular with the French. The Dick Turpin serves good pub food with such rare delights as baked potatoes with Cheddar cheese and Heinz baked beans.
Getting Back to the Campus
To get back after a night out you can either get the last bus from La Victoire at about 1 a.m., hitching in small groups isn't too hard, you can walk which takes at least an hour, a taxi costs about a tenner or you can stay out on the town until the first bus at 6.45 a.m.. The last F bus doesn't stop at La Victoire on Thursdays so you have to go to the previous stop: Bourse du Travail on cours A. Briand .
Our Favourite Bars
Le Plana, Chez Auguste and El Bodega on Place de la Victoire , The Connemara, Texaco - Tex Mex Restau-rant (second side street to the right after Nouvelles Galéries ) and El Bodega , another Spanish bar which is just up a side street off cours de Chapeau Rouge opposite the Grand Théâtre